Sound Immersion Weekend
New dates coming soon. If you are interested, email me at faye@tsvibrations.com and I will email you when we can resume.
North West Ga, just outside Rome.
The sound immersion weekend will include at least 3 one hour sonic massage sessions with Paiste gongs.

Faye plays 9 gongs to create an indescribable experience with healing sound and vibration. At times you will be invited to participate in creating the vibrational shower. We will have 7 Paiste Gongs and a variety of bowls, bells, shell horns and whistles that can be used for your sound exploration.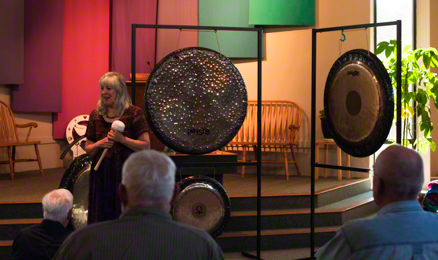 This will be a full weekend of sound and sound can have a profound affect upon the physical body. So come for the healing possibilities, stay for the fun!


Together we will create a space of sound and vibration filled with Divine Love and explore the healing potential of the human body when immersed in a high vibrational field. We will play with tuning forks, crystal and Tibetan singing bowls, Sacred Gongs and Bells, indigenous horns, voice, drums, chanting and other instruments.

Past participants have reprorted a shift and expantion of consciousness, addressing a range of physical conditions, restoring balance, and a positive change at the cellular level.

Most participants experience profound personal transformation and healing as a result of being surrounded with these healing frequencies so completely for the weekend. Bring your favorite musical instrument to share!

Drum Circle on Saturday night. Bring your favorite instruments to play!

Play the gong and the sound gently and thoroughly massages every cell in your body. This stimulates the lymphatic system and may improve overall health. The Gong gently moves you to a deep state of relaxation, the place where physical bodies heal and
rejuvenate naturally.

The gong was among the first musical instruments played by man and can be traced back to the second millennium B.C., and it is believed that the gong is much older than that. Only a few families knew the tradition of gong making and it was passed down to each new generation. This art of making gongs was veiled in a sense of magic. Gong makers believed that a gong was created successfully only with the help of higher powers. And some believed that to touch a gong would assure one of strength and fortune.

The ancient science of sound vibrations has been found to be a healing process on many levels, for the purpose of aligning the physical and subtle bodies with their own natural vibration and allowing the individual to experience the highest state of awareness and health.

Learning to Be all that you already are.

If you have any specific food requirements/allergies, please discuss this with us at least 2 weeks prior to your arrival so we can decide how to best accomodate your needs. Storage is available if you want to bring any special foods or drinks.



Retreat Cost: $420 per person INCLUDING Organic Food, and overnight lodging.. Retreat style, 2 people per bedroom. Each room has a private bath. 3 ensuite, one across the hallway. On a beautiful farm in NW Ga with a creek and walking trails.

A non-refundable deposit of $120 is required to hold your space with final
payment due 2 weeks prior to arrival.

Due to space we are limited to 8 people, so reserve early. This means you get more individual attention than in a larger class.

Flight Information: Closest airport is Atlanta (ATL).Rental cars are available at the airport. Transportation can be arranged via shuttle van and cost will depend upon the number of passengers. If you need information on transportation, email Faye at: Faye@TsVibrations.com

The weekend begins with dinner at 6 on Friday and ends at 5 PM on Sunday. You may be able to come in early or stay over on Sunday. Coordinate with me for additional cost and availability. Lodging is $50 per day, with meals $15 per meal. Or you can stay and eat out at local restaurants as you enjoy exploring the Rome area. We can taylor your stay to your desires if it fits into my schedule as well.

Pay with credit card online, call with a credit card, or make deposit checks payable to Faye Henry and mail to:

3044 Haywood Valley Road
Armuchee, Ga 30105
706.857.6300