Created in 2006, Touchstone Vibrations is based in the foothills of Northwest Georgia, in a little community called Armuchee. Faye Henry is the owner, gong player, and creative force in the company.

We believe that your attention and your intention are powerful creation tools that you use daily.
We encourage you to set an intention each day for what you want to have happen in that day, and focus you attention on the completion of that goal, never wavering from that view.

We encounter challenges during the day and if our attention moves to seeing a different outcome because our mind cannot understand how the original goal can happen, then it usually does not. If you just stay focused and watch events unfold to bring you that original intent, it is often a very pleasant and amazing process that brings your original intent into being.
We feel that music, and especially the sound and vibration of the gong is a powerful tool to be used for clearing energy fields, increasing your auric field and allowing the body to shift to a place of health and prosperity in all avenues of life.
We are honored you have come to visit out site and hope you will return often to see what we have on the calendar to share with you.
We play and sell Paiste Gongs, Freenotes, and crystal singing bowls.
We also do video production and cd and dvd duplication, so if you have a video or audio project, give us a call.

If you want to see some of our work, visit the site of international dowser, Raymon Grace. We do his video duplication and web sites.
Touchstone Vibrations
795 Barnesville Road
Armuchee, Ga 30105

706•857•6300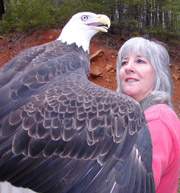 About Faye Henry
Faye Henry, a woman with an outlook that could quite possibly transform the world, brings with her a palette full of skills: Pilot, air traffic controller, business owner, underwater videographer and photographer, video editor, computer programmer and web developer, gong artist, drummer, to name a few.

On a fall day in 2001, Faye walked into an herb store looking for carrot oil and came out with a whole new path in life. While she was in the herb store she was invited to attend a Reiki class.

Against all odds and being extremely skeptical, she wound up in the class. This led to emotional healing classes, access energy transformation classes, quantum touch healing, dowsing, essential oils, lymphatic drainage study, and the clarity that the key to healing is sound and color.

These interests have blossomed in Faye's life and she utilizes these skills for personal growth.

She believes that everyone has within them the capacity to heal themselves; therefore no one really needs the services of others to heal. Because we always do our own healing.

Others can be a facilitor and help us to find our path to health. So do the things you enjoy. Spend time with those you enjoy. Keep your power yourself.

Faye believes we create everything in our lives with our thoughts and desires, that your focused attention is powerful and we need only to focus on being whole while reaching a state of complete relaxation to claim our health.

The human body is amazing and powerful. When mind, body, and spirit are in balance and harmony, everything is possible to us now.
Previous venues where Faye has played gongs:

Coptic Conference in Johnson City Tn each year since 2010

Southwest Dowsing Conference in Flagstaff

Peaceful Meadow Retreat Boulder Co for Venus Transit

The Peace Dome at the Metaphysical College for a Pre Venus
Transit and World Peace weekend event

National Dowsing Conference in Vermont

Southeast Dowsing Conference Ashville Tn

West Coast Dowsing Conference in Santa Cruz California

ISHA Yoga

Various locations in North Ga after Dharma talks by
Tenzin, a Tibetan Buddhist Monk

Cloud dome in Mentone Alabama

Beckham Creek Cave Lodge Missouri

Washington Grove, MD

Ellie Fristenski's Reunions

Earth Keepers Conference in Hot Springs Arkansas

Memphis Gong Chamber

Numerous Raymon Grace Seminars around the US

Unity North Church, Atlanta Ga

Unity North Church, Atlanta

Other Unity Churches across the south

Elizabeth Brown Pilates Studio Rome Ga

Various Yoga Studios and private events around the US

Ellie Drew Lotus Flower Retreats in Phoenix Az and Mentone Al

Monroe Institute

Fayes gong sessions have inspired creativity in people to create paintings, poems, books and even a new line of ladies shoes! And a woven pattern of cloth created by Sedona's own Wendy the Weaver.


What people say about Faye:

(from another gong player who ordered my gong cds)
And the point is . . . YOU . . . play them like no one else. Pure magic. Can't wait to get my magic CDs for when I am in the car and not near my gong! Sweet woman - I cannot get enough gong!!!!!! It grows more beautiful and dear to me by the day. I cannot thank you enough for introducing me! Angela

May you all have the pleasure of meeting Faye Henry; she spreads great joy and truth just by being present. Jeannette Sebes-McDonald Chattanooga Tn

Faye…the amazing cosmic musician and her magical gongs! Jody, Yoga Instructor, Atlanta Ga
I first met Faye at a session she was doing at First Unity Church here in Memphis.

I had head alot about this lady from my student Cheryl Yarbrough. I'd never heard of anyone who played the gongs and must admit I was intrigued. It was a wonderful experience and very healing. To my delight I had time to talk to Faye and asked her if she could come to our reunion. She brought her gongs and created a atmosphere of tranquility in uniting us all for the week ahead. Everyone's reaction was the same as mine…awesome.
Faye is a sweet lovely calm and devoted worker for spirit. Her gentle manner and warm smile almost insists you become her friend. For me it was that " we have known each other from the past" and I'm so thrilled we have reunited in this lifetime.Ellie Fristensky