Join Faye and experience the mystical magical vibration of her seven Paiste Gongs.

Come relax and be showered by the pure cosmic vibration of divine love.

Immerse your body in the wonderful vibrations and amazing sounds and allow every cell to be gently massaged.

Sonic Massage benefits you by easily and effortlessly stilling the mind and bubbling the "issues out of your tissues" while you relax and float in the energy and vibrations of the gongs.

Those attending often feel an immediate and easy shift of awareness and a deep state of relaxation.

Based upon the concepts and laws of quantum physics, using the scientific principles of vibration and resonance, a session helps instill a nature state of equilibrium. In this state, your body innately knows what to do to heal itself and does so easily. Most people who arrive with stress or pain leave without it, or with it greatly reduced.
For more informations on Gongs click here.
All private sessions will be 1 hour. On Saturday evening for the group session...it will last 2 hours. The first hour will be gongs only, the Sonic Massage, then once you are totally relaxed and your body is in healing mode.....we will have Rebecka Gregoryjoin in for 15 minutes of a Cosmic Tune Up Adventure…then we will all join in with Rebecka to tone, sing or chant to create a total cosmic sound session. All accompanied by the gongs.
Rebecka taps into the cosmic energy world to offer a journey of sounds thru her voice. This magical experience allows you to retune your energetic body, open your heart space and refresh. This will be accompanied by Faye and the gongs to enhance the experience.
So come prepared to lie and enjoy the gongs, then be seneraded by Rebecka and then to particpate with us to create a joyful sound and enjoy being in that vibration as we express our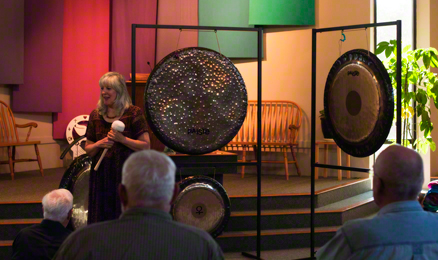 For this event you can experience gongs in a group session, or in a private session. For the private sessions, you are on a massage table with the gongs in a u shape around you. So you are totally immersed in the sound and vibration of the gongs played just for you. Faye plays intuitively, so the session is unique for each individual.
For the private sessions you can choose a BioMat session while you are experiencing the gongs. On the massage table will be a BioMat filled with amythest crystals that are heated and produce far infred rays. For more information about the BioMat click here.