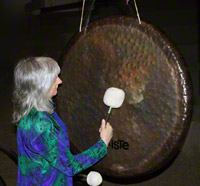 For more information about sound and its effect uopn
your body click here.
Using your intention and attention, you can heal your body quickly and easily. You are powerful and will learn how to allow your body to do what it does best. Yes, you CAN do this and it is very easy. Both to learn and to do.

We will begin with a quick gong session to help you relax, and transform any limiting belief systems you have so you can believe you can do this easily.

One of the powerful things that the gongs do is bubble the "issues right out of your tissues." This is the easiest method I have encountered for emotional release. And it is those emotions stuck in our tissues that eventually cause disease in our physical bodies. So while you relax in the vibration of the gongs, those vibrations gently massage those issues and entices the body to easily transform the non beneficial emotion into healing energy. As you relax, the body does what it does best...heals itself.
The art of being is a practice Faye developed and has been teaching for a number of years now. Invest in learnig more about yourself and the powers you have within yourself that you are not currently aware of or using to your fullest ability.